December, 1953


John Deere Service Bulletins

No. 210


INSTALLATION INSTRUCTIONS AM2093T LIGHT GUARD ATTACHMENT FOR JOHN DEERE MODEL "40" CRAWLER TRACTOR
Light guards are designed to protect the tractor lights when working under conditions likely to cause damage. These guards can be mounted either at the top of the grille guard or on each side. Holes are provided at these locations for attaching.
Installation.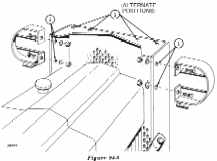 Refer to Figure 94A.
1. Attach light guards at top or sides of grille guard, using the four 1/2 x 1-inch cap screws, 1/2-inch lock washers and hex nuts provided.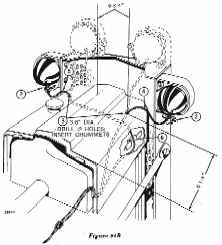 Refer to Figure 94B.
2. Remove lights from light arms at sides of tractor and secure to light arms welded on light guards.
3. Drill two 3/8-inch holes in top of grille and insert a rubber grommet in each hole.
4. Connect lead to right-hand light. This lead is the one originally used when lights were mounted on the side of the tractor.
5. Connect lead to left-hand light, using lead furnished with attachment instead of original lead.
6. Insert clip to hold light leads to top of right rear of grille.


---