December, 1953


John Deere Service Bulletins

No. 210


INSTALLATION INSTRUCTIONS AM2092T GRILLE GUARD ATTACHMENT FOR JOHN DEERE MODEL "40" CRAWLER TRACTOR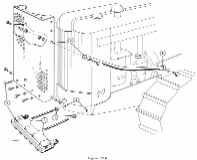 Bumper.
In order to install the grille guard on the tractor, the AM2094T bumper attachment must first be in place. This bumper is packaged with two bumper tension rods and two 7/8-inch hex nuts.
Refer to Figure 93A.
1. Thread one end of each tension rod in the tapped holes in the rear of the bumper.
2. Insert tension rods through holes in radiator support casting. 3. Install hex. nuts on other end of tension rods and tighten securely.
Grille Guard.
4. Place grille guard in position on bumper. The bottom of the grille guard is provided with six drilled holes for attaching cap screws. Secure bottom of grille guard to the bumper, using the six 7/16 x 1-1/8-inch cap screws and 7/16-inch lock washers provided.
5. The grille guard is secured to the side frame and center frame of the tractor by means of two. identical braces, one on each side of the tractor. The braces are bent to provide clearance for generator and air cleaner. Attach the short leg of each brace to the third hole from the top on the side of the grille guard, using the two 5/8 x 1-1/2-inch cap screws, 5/8-inch lock washers and hex. nuts provided.
6. Attach the long leg of each brace to the cap screw which holds the front of the side frame to the center frame.

---