May, 1954


John Deere Service Bulletins

No. 215


DESIGN CHANGE PREVENTS LEAKAGE AT TOUCH-O-MATIC CROSSOVER VALVE
John Deere Model "40" Tricycle Tractor
To prevent oil seepage at crossover valves on the Model "40" Dual Touch-o-matic, the crossover valve selector lever handle bracket has been changed in design, and flat steel washers are now being used to provide positive backing for crossover valve seals.
The valve holes in the bracket have been enlarged 1/32-inch in diameter to prevent possible scuffing of the valves against the edges of the holes. The bracket is counterbored about the valve holes to accept flat washers. These counterbores are large enough to assure radial clearance around the washers so they will not bind on valves.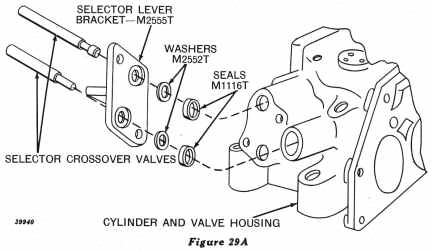 The part number of the selector handle bracket is changed from M1812T to M2555T. The part number of the washer is M2552T; two of these are used. (See Figure 29A). The M2555T bracket cannot be used without the two M2552T washers.
The new bracket and washers were first used in production on Model "40" Tractor Serial No. 40-74104. On tractors with lower serial numbers, install the new bracket and washers as a corrective measure if leakage develops.
---