November, 1954


John Deere Service Bulletins

No. 221


SPECIAL SERVICE TOOLS FOR REMOVAL AND INSTALLATION OF TRACK ROLLER AND IDLER BUSHINGS
John Deere Model "40" Crawler Tractors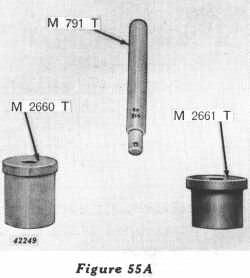 Two new special tools (Figure 55A), are now available for use in removal and installation of the M2266T bushings used in the track roller and idler assemblies on Model "40" 4- and 5-roller Crawler Tractors.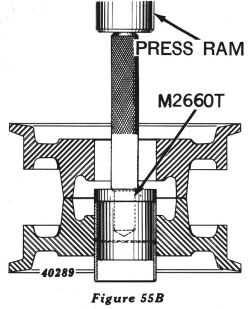 Driver No. M2660T is designed to pass completely through the idler or roller assembly, removing both bushings at the same time (Figure 55B).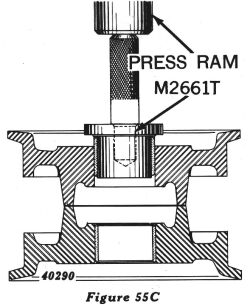 Driver No. M2661T is designed to install and position the M2266T bushings correctly. The bushings must be installed individually from each side of the roller or idler assembly (Figure 55C).
NOTE: The handle used with the M2660T and M2661T drivers is furnished with the No. 1 tool set. It carries a tool company number of 814, and may be ordered individually by Part Number M791T.
---