October, 1954


John Deere Service Bulletins

No. 220


CORRECTING INTERFERENCE BETWEEN ANGLING YOKE AND TRACTOR TRACK
John Deere No. 61 Angling Bulldozer
When the No. 61 Angling Bulldozer is mounted on a John Deere Model "40" 5-Roller Crawler Tractor with 14-inch wide tracks and the blade is adjusted to the extreme 25-degree angling position, there is interference between the angling yoke of the bulldozer and the tractor track.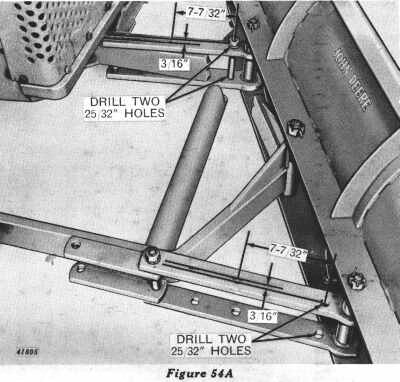 To remedy this, it is recommended that two additional 25/32 inch holes be drilled in each of the right and left angling yokes (one hole in upper strap and one hole in lower strap). These holes must be located 3/16-inch to the outside of center line of the other holes, as shown in the illustration. The illustration also shows the combination of holes to use for bolting the angling yokes to the boom.
The settings for blade adjustment as shown in Operator's Manual are satisfactory for all other track equipment.
---