September, 1954


John Deere Service Bulletins

No. 219


CORRECT POSITIONING OF SWINGING DRAWBARS WHEN USING THREE-POINT HITCH IMPLEMENTS
John Deere Model "40" Series Wheel-Type Tractors
Occasionally the operator of a Model "40" Series Tractor will change from a job requiring the use of the swinging drawbar to a job on which he uses an integral implement, and will attach the implement without first moving the swinging drawbar to the short position. Please caution your customers against this practice, as there is considerable chance that bending of the drawbar and damage to the final drive housing may occur if the integral implement should happen to catch on the extended drawbar during the raising operation.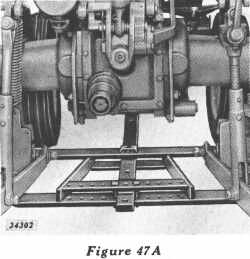 Please refer to Figure 47A for proper positioning of the swinging drawbar while tractor is being used with integral implements.
---