June, 1955


John Deere Service Bulletins

No. 229


FENDERS CHANGED ON JOHN DEERE MODEL "40" CRAWLER TRACTORS
A design change in Model A"40" Crawler Tractor fenders provides more clearance between the track shoes and the front fender bracket when treads are set at 36 inches with 10-inch shoes and at 38 inches with 12-inch shoes.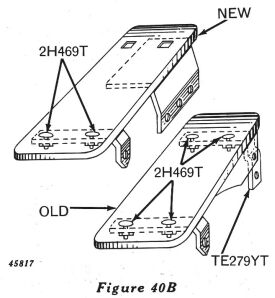 The basic difference between the new type fenders and the previous type is in the front mounting brackets which support the fenders. The new fender is supported by a heavy plate type bracket which is welded directly to the front end of the fender, eliminating two 2H469T carriage bolts and the TE279YT front bracket (Figure 40B).
The new fenders, Part Nos. AM2382T (left) and AM2383T (right) were effective in production of Model "40" Crawler Tractors with Serial No. 4OC-66921.
---